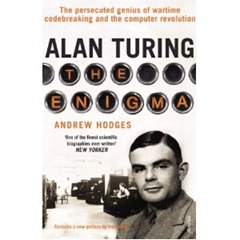 A brief panic over running out of things to read led me to poll my twitter followers for suggestions, Andrew Hodges' biography of Alan Turing, Alan Turing: The Enigma  was one result of that poll. Turing is most famous for his cryptanalysis work at Bletchley Park during the Second World War. He was born 23rd June 1912, so this is his 100th anniversary year. He was the child of families in the Indian Civil Service, with a baronetcy in another branch of the family.
The attitude of his public school, Sherbourne, was very much classics first, this attitude seems to have been common and perhaps persists today. Turing was something of an erratic student, outstanding in the things that interested him (although not necessarily at all tidy) and very poor in those things that did not interest him.
After Sherbourne he went to King's College, Cambridge University on a scholarship for which he had made several attempts (one for my old college, Pembroke). The value of the scholarship, £80 per annum, is quite striking: it is double the value of unemployment benefit and half that of a skilled worker. He started study in 1931, on the mathematics Tripos. His scholarship examination performance was not outstanding. Significant at this time is the death of his close school friend, Christopher Morcom in 1930.
King's is a notorious hotbed of radicals, and at this time Communism was somewhat in vogue, a likely stimulus for this was the Great Depression: capitalism was seen to be failing and Communism offered, at the time, an attractive alternative. Turing does not appear to have been particularly politically active though.
During his undergraduate degree, in 1933, he provided a proof of the Central Limit Theorem – it turns out a proof had already been made but this was his first significant work. He then went on to answer Hilbert's Entscheidungsproblem (German for "Decision Problem) in mathematics with his paper, "On computable numbers"1. This is the work in which he introduced the idea of a universal machine that could read symbols from a tape, adjust its internal state on the basis of those symbols and write symbols on the tape. The revelation for me in this work was that mathematicians of Turing's era were considering numbers and the operations on numbers to have equivalent status. It opens the floodgates for a digital computer of the modern design: data and instructions that act on data are simply bits in memory there is nothing special about either of them. In the period towards the Second World War a variety of specialised electromechanical computing devices were built, analogue hardware which attacked just one problem. Turing's universal machine, whilst proving that it could not solve every problem, highlighted the fact that an awful lot of problems could be solved with a general computing machine – to switch to a different problem, simply change the program.
Alonzo Church, at Princeton University, produced an answer for the Entscheidungsproblem  at the same time; Turing went to Princeton to study for his doctorate with Church as his supervisor.
Turing had been involved in a minor way in codebreaking before the outbreak of World War II and he was assigned to Bletchley Park immediately war started. His work on the "Turing machine" provides a clear background for attacking German codes based on the Enigma machine. This is not the place to relate in detail the work at Bletchley: Turing's part in it was as something of a mathematical guru but also someone interested in producing practical solutions to problems. The triumph of Bletchley was not the breaking of individual messages but the systematic breaking of German systems of communication. Frequently, it was the breaking of a system which was critical in principle the Enigma machine (or variants of it) could offer practically unbreakable codes but in practice the way it was used offered a way in. Towards the end of the war Turing was no longer needed at Bletchley and he moved to a neighbouring establishment, Hanslope Park where he built a speech encrypting system, Delilah with Don Bayley – again a very practical activity.
Following the war Turing was seconded to the National Physical Laboratory where it was intended he would help build ACE (a general purpose computer), however this was not to be – in contrast to work during the war building ACE was a slow frustrating process and ultimately he left for Manchester University who were building their own computer. Again Turing shows a high degree of practicality: he worked out that an alcohol water mixture close to the composition of gin would be almost as good as mercury for delay line memory*. Philosophically Turing's vision for ACE was different from the American vision for electronic computing led by Von Neumann: Turing sought the simplest possible computing machinery, relying on programming to carry out complex tasks – the American vision tended towards more complex hardware. Turing was thinking about software, a frustrating process in the absence of any but the most limited working hardware and also thinking more broadly about machine intelligence.
It was after the war that Turing also became interested in morphogenesis2 – how complex forms emerge from undifferentiated blobs in the natural world, based on the kinetics of chemical reactions. He used the early Manchester computer to carry out simulations in this area. This work harks back to some practical calculations on chemical kinetics which he did before going to university.
Turing's suicide comes rather abruptly towards the end of the book. Turing had been convicted of indecency in 1952, and had undergone hormone therapy as an alternative to prison to "correct" his homosexuality. This treatment had ended a year before his suicide in 1954. By this time the UK government had tacitly moved to a position where no homosexual could work in sensitive government areas such as GCHQ. However, there is no direct evidence that this was putting pressure on Turing personally. Reading the book there is no sick feeling of inevitability as Turing approaches the end you know he has.
Currently there are calls for Turing to be formally pardoned for his 1952 indecency conviction, personally I'm ambivalent about this – a personal pardon for Turing is irrelevant: legal sanctions against homosexual men, in particular, were widespread at the time. An individual pardon for Turing seems to say, "all those other convictions were fine, but Turing did great things so should be pardoned". Arnold Murray, the man with whom Turing was convicted was nineteen at the time, an age at which their activities were illegal in the UK until 2000.
What struck me most about Turing from this book was his willingness to engage with practical, engineering solutions to the results his mathematical studies produced.
Hodges' book is excellent: it's thorough, demonstrates deep knowledge of the areas in which Turing worked and draws on personal interviews with many of the people Turing worked with.
Footnotes
1. "On computable numbers, with an application to the Entscheidungsproblem", A.M. Turing, Proceedings of the London Mathematical Society 42:230-265 (1936).
2. "The Chemical Basis of Morphogenesis", A.M. Turing, Philosophical Transactions of the Royal Society of London. Series B, Biological Sciences, Vol. 237, No. 641. (Aug. 14, 1952), pp. 37-72.
3. My Evernotes for the book
4. Andrew Hodges' website to accompany the book (link)